Turkmenistan (formerly Turkmenia) is bounded by the Caspian Sea in the west, Kazakhstan in the north, Uzbekistan in the east, and Iran and Afghanistan in the south. About nine-tenths of Turkmenistan is desert, chiefly the Kara-Kum, one of the world's largest sand deserts - it is approximately 360,000 sq. km. Turkmenistan was once part of the ancient Persian Empire.
Turkmenistan has been at the crossroads of civilisations for centuries. In medieval times, Merv was one of the great cities of the Islamic world and an important stop on the Silk Road, a caravan route used for trade with China until the mid-15th century. Turkmenistan possesses the world's fourth largest reserves of natural gas resources. Since 1993, citizens have received government-provided electricity, water and natural gas free of charge.
Capital City: Ashgabat
Population: 5.3 Million (2014)
Currency: Turkmen New Manat (TMT)
Turkmenistan is part of the Turk Transport network of specialist routes or destinations.
We pride ourselves in being able to know the local market - offering regular services by Road, Air or Sea. Built up over many years, customer driven, to offer reliable, professional and cost effective services.
Road Freight
In 2001 Turkmenistan had an estimated 22,000 km of roads, about 18,000 km of which were paved. One major highway runs westward from Mary, along the Iranian border through Ashgabat and then to Turkmenbashi on the Caspian Sea; a second runs north-westward from the Afghanistan border through Turkmenabat, along the Uzbekistan border to Dashoguz. In the early 2000s, major road-building projects improved sections of the highway connecting Ashgabat with Balkanabat, Bereket, Turkmenbashi and Mary. Turk Transport has weekly Road Freight departures to or from Turkmenistan for import and export freight. Offering door to door, Port to port or door to port services. All customs clearance, documentation and friendly advice from bilingual staff will be included in your shipment with us. Transit time is 18-20 days for Full loads (FTL) or 22-26 days for Groupage loads (LTL). Speak to us to consolidate your shipment further – 020 8569 1312 or email road@turktransport.co.uk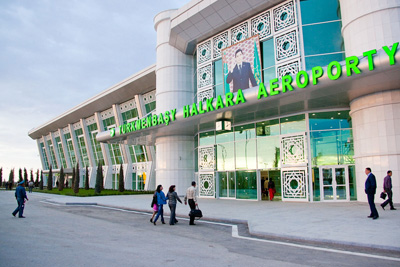 Air Freight
There are 3 international airports (one under construction) and 23 domestic airports in Turkmenistan.
Ashgabat International Airport is the largest airport and is located approximately 10 km Northwest of the capital Ashgabat. The airport was named after the country's first president, Saparmyrat Niyazov. Türkmenbaşy International is the second largest international airport and is located in Türkmenbaşy. Mary International Airport is the third largest international airport and upgraded its status from provincial to international airport in 2009. The airport is located 6 km. north-east of the centre of Mary. Other main provincial airports are Dashoguz Airport, Balkanabat Airport and Türkmenabat Airport. Flights are available from Ashgabat and Turkmenbashi to over 21 international destinations in United Kingdom, France, Germany, Turkey, Rissia, China, India, Ukraine, Kazakhstan, Thailand, United Arab Emirates and Uzbekistan. Turk Transport are truly able to offer door to door, airport to airport or door to airport services. So whether your air freight cargo is commercial or personal, we can get it there with cost-effective airfreight rates. We have access to daily departures, import and export from world-wide airports serving Turkmenistan. Speak to us to consolidate your shipment further – 020 8569 1312 or email air@turktransport.co.uk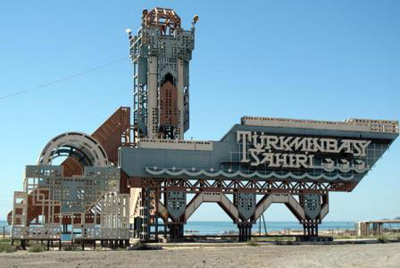 Sea Freight
The main port at Turkmenbashi on the Caspian Sea is being renovated. Main shipping lines cross the Caspian to Astrakhan in Russia and Baku in Azerbaijan. Smaller Caspian ports are Alaja, Hazar and Ekerem. Turk Transport has strong and healthy relations with many shipping lines, built up over many years, handling large volumes of freight, serving Turkmenistan. We offer a range of flexible and cost effective LCL and FCL solutions. We can provide door to door, port to port or door to port solutions. Speak to us to consolidate your shipment further – 020 8569 1312 or email sea@turktransport.co.uk
Did you know
- Gas and electricity are free in Turkmenistan, so some citizens opt to have their stoves burning 24/7 to avoid the cost of using matches.
- More than 80% of the country is covered by the Kara-Kum desert. It covers the uninhabited and remote regions in central and western Turkmenistan