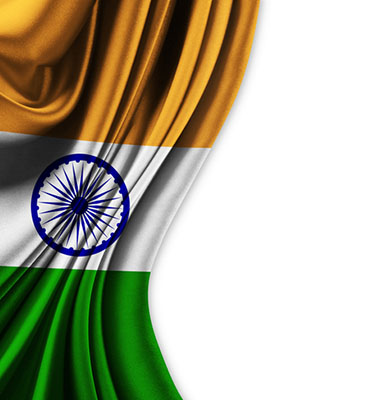 India, officially the Republic of India is a country in South Asia. It is the seventh-largest country by area, the second-most populous country with over 1.2 billion people, and the most populous democracy in the world. India is a federal constitutional republic governed under a parliamentary system consisting of 29 states and 7 union territories. India's story is one of the grand epics of world history. Throughout thousands of years of great civilisations, invasions, the birth of religions and countless cataclysms, India has time and again proved itself to be, in the words of its first prime minister, Jawaharlal Nehru, 'a bundle of contradictions held together by strong but invisible threads'. Indian history has always been a work-in-progress, a constant process of reinvention and accumulation that can prove elusive for those seeking to grasp its essential essence. And yet, from its myriad upheavals, a vibrant, diverse and thoroughly modern nation has emerged, as enduring as it is dynamic and increasingly well equipped to meet the challenges of the future

Capital City:  Delhi
Total Population:  1.26 Billion (2014)
Currency:  Rupee
India is part of the Turk Transport network of specialist routes or destinations.
We pride ourselves in being able to know the local market - offering regular services by Air or Sea. Built up over many years, customer driven, to offer reliable, professional and cost effective services.
Air Freight
There are 346 civilian airfields in India - 253 with paved runways and 93 with unpaved runways, only 132 were classified as "airports" as of November 2014. Of these, the state owned Chhatrapati Shivaji International Airport in Mumbai handles more than a half of the air traffic in the country. The operations of the major airports in India have been privatised over the past 5 years and this has resulted in better equipped and cleaner airports. The terminals have either been refurbished or expanded.
India also has 33 "ghost airports," which were built in an effort to make air travel more accessible for those in remote regions but are now non-operational due to a lack of demand. The Jaisalmer Airport in Rajasthan, for example, was completed in 2013 and was expected to host 300,000 passengers a year but has yet to see any commercial flights take off. Despite the number of non-operational airports, India is currently planning on constructing another 200 "low-cost" airports over the next 20 years. Turk Transport are truly able to offer door to door, airport to airport or door to airport services. So whether your air freight cargo is commercial or personal, we can get it there with cost-effective airfreight rates. We have access to daily departures, import and export from world-wide airports serving numerous airports in India. Speak to us to consolidate your shipment further – 020 8569 1312 or email air@turktransport.co.uk
Sea Freight
There are many ports in India. Maritime transportation in India is managed by the Shipping Corporation of India, a government-owned company that also manages offshore and other marine transport infrastructure in the country. It owns and operates about 35% of Indian tonnage and operates in practically all areas of shipping business servicing both national and international trade. Tamil Nadu is the only state in India which carries three ports - Ennore, Chennai and Tuticorin and Kochi Port is the only transhipment facility in India. There are twelve major ports in India: Navi Mumbai, Mumbai, Kochi, Kolkata (including Haldia), Paradip, Visakhapatnam, Ennore, Chennai, Tuticorin, New Mangaluru, Mormugao and Kandla. In addition, there are 187 minor and intermediate ports, 43 of which handle cargo. The distinction between major and minor ports is not based on the amount of cargo handled. The major ports are managed by port trusts which are regulated by the central government. Turk Transport has strong and healthy relations with many shipping lines, built up over many years, handling large volumes of freight, serving numerous sea ports in India. We offer a range of flexible and cost effective LCL and FCL solutions. We can provide door to door, port to port or door to port solutions.
Speak to us to consolidate your shipment further – 020 8569 1312 or email sea@turktransport.co.uk
Did you know?
- The worlds first airmail took place in India on 18 Feb 1911
- The word 'Shampoo' is derived from 'champo' It was initially used as a head massage oil for the Nawabs of Bengal during the Mughal Empire around 1762. It evolved into shampoo over the years.