Officially the Republic of Iraq is a country in Western Asia. The country borders Turkey to the north, Iran to the east, Kuwait to the Southeast, Saudi Arabia to the south, Jordan to the Southwest, and Syria to the west. The southern part of Iraq is within the Arabian Peninsula. The capital, Baghdad, is in the centre of the country and is the largest city. Iraq is a triangle of mountains, desert, and fertile river valleys. The country has arid desert land west of the Euphrates, a broad central valley between the Euphrates and the Tigris, and mountains in the Northeast. From earliest times Iraq was known as Mesopotamia 'the land between the rivers', for it embraces a large part of the alluvial plains of the Tigris and Euphrates rivers.
Capital City: Baghdad
Population: 34 Million (2014)
Currency: US Dollar
Iraq is part of the Turk Transport network of specialist routes or destinations.
We pride ourselves in being able to know the local market - offering regular services by Road, Air or Sea. Built up over many years, customer driven, to offer reliable, professional and cost effective services.
Road Freight
Iraq has a good road network with about 59,623 km of roads, of which 72% of are surfaced. The paved road network has a good level of maintenance. The Kurdistan region road network accounts for 14.840 km.
Two principal axes run East to West from the Jordanian border, through Anbar Governorate to reach Baghdad, and then North to South from the Turkish/Syria border to Basrah and the coast of the Persian Gulf. A new road network is under construction in the Kurdistan region. Turk Transport has weekly Road Freight departures to or from Iraq for import and export freight. Offering door to door, Port to port or door to port services. All customs clearance, documentation and friendly advice from bilingual staff will be included in your shipment with us. Transit time is 10-12 days for Full loads (FTL) or 14-16 days for Groupage loads (LTL). Speak to us to consolidate your shipment further – 020 8569 1312 or email road@turktransport.co.uk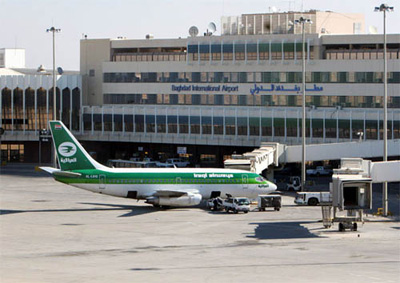 Air Freight
There are 6 international airports in Iraq - Baghdad, Al Najaf, Basra (Basrah), Erbil (Arbil), Mosul and Sulaimaniyah (Silemani). Turk Transport are truly able to offer door to door, airport to airport or door to airport services. So whether your air freight cargo is commercial or personal, we can get it there with cost-effective airfreight rates. We have access to daily departures, import and export from world-wide airports serving Iraq. Speak to us to consolidate your shipment further – 020 8569 1312 or email air@turktransport.co.uk
Sea Freight
There are 3 ports in the Persian Gulf. Umm Qasr (the only deep water port),  Khawr az Zubayr and Al Basrah (which has limited functionality). Turk Transport has strong and healthy relations with many shipping lines, built up over many years, handling large volumes of freight, serving Iraq. We offer a range of flexible and cost effective LCL and FCL solutions. We can provide door to door, port to port or door to port solutions. Speak to us to consolidate your shipment further – 020 8569 1312 or email sea@turktransport.co.uk
Did you know
- The hanging Garden of Babylon in the palace of Nebuchadnezzar II was considered as one of the seven wonders of the ancient world
- Iraq gained independence from Britain in 1932 and became a republic in 1958
- Iraq is thought to have pioneered the concept of the three course meal—starting a meal with soup, then meat, followed by fruit or sweets. This tradition was brought to Europe from Iraq by the Moors, sometime in the 9th century.