Officially the Republic of Turkey is a parliamentary republic in Eurasia, largely located in Western Asia, with the smaller portion of Eastern Thrace in Southeast Europe. Turkey is bordered by eight countries: Syria and Iraq to the south; Iran, Armenia, and the Azerbaijani exclave of Nakhchivan to the east; Georgia to the Northeast; Bulgaria to the Northwest; and Greece to the west. The Black Sea is to the north, the Mediterranean Sea to the south, and the Aegean Sea to the west. The Bosphorus, the Sea of Marmara, and the Dardanelles (which together form the Turkish Straits) demarcate the boundary between Thrace and Anatolia; they also separate Europe and Asia. Turkey's location at the crossroads of Europe and Asia makes it a country of significant geostrategic importance. Turkey is a fascinating country. Dominated by Greeks, Persians and Romans in turn throughout the classical era, what is now Turkey was once the seat of the Byzantine Empire.
In the 11th century, Turkish nomads from Central Asia moved into the region, gradually conquering all of Asia Minor. First the Seljuk and then the Ottoman Turkish Empires came to power, exerting influence over much of the eastern Mediterranean world, and bringing Islam to Southeast Europe.
After the Ottoman Empire fell in 1918, Turkey transformed itself into the vibrant, modernising, secular state it is today.
Capital City: Ankara
Population: 75.8 Million (2014)
Currency: Turkish Lira (YTL)
Turkey is part of the Turk Transport network of specialist routes or destinations.
We pride ourselves in being able to know the local market - offering regular services by Road, Air or Sea. Built up over many years, customer driven, to offer reliable, professional and cost effective services.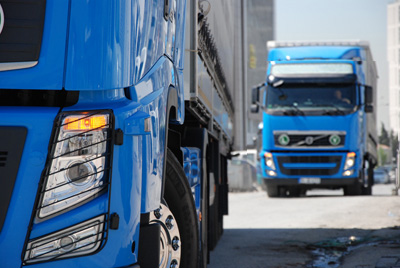 Road Freight
Road logistics has the largest share in domestic freight transportation in Turkey. Roadways are the predominant mode of transportation of freight and passenger cargo. Turkey has one of the most developed road networks in its region. As a result, cargo handling and transport has been in expansion. There is currently more than 2,100 km of operating motorways, with an excess of 513 km of ongoing construction. By 2035, 4,130 km of new motorways will be built. An international E-ways network was introduced after World War II, these are two main roads that interconnect Turkey with Europe. The E-80 from the Bulgarian border and the E-90 from the Greek border. Turkey provides connections to Asia and the Middle East through its southern and eastern borders. The total length of E-ways is 9,361 km. TEM (Trans-Europe North-South Motorway) is the oldest and most developed project in Europe's transportation history. There are 15 members and 4 observer countries that are part of this project. Turkey connects Europe to Asia and the Middle East with TEM roads. The total length of TEM roads is 6,970 kilometres.
A 3rd bridge named Yavuz Sultan Selim Bridge is currently under construction in Istanbul. The bridge will span the Bosphorus and measure 59 meters wide and 320 meters high. It will be the biggest suspension bridge in the world with a railway. Apart from freight vehicles passing, the project will also provide an extra railroad network across the Bosphorus, thereby supporting the transportation of goods across Trans-Asian Railways. Trains that cross the 3rd Bridge or the Marmaray will continue on their way to Halkalı, then to Bulgaria as well as to Europe, where goods can travel without any customs restrictions.
Turkey has bilateral highway transportation agreements with 58 countries and operates in a region that includes Europe, the Middle East and Africa. 50% of the total world trade will be handled around regions neighbouring Turkey and export volume is expected to reach USD 1.2 trillion by 2023. The road network of Turkey would be able to meet this rapid growth in freight traffic both within Turkey and in international freight traffic that passes through the country. Turk Transport has Daily Road Freight departures to or from Turkey for import and export freight. Full Load (FTL) transit time is usually 6 days and Groupage (LTL) is usually 7 days. We can offer door to door, Port to port or door to port services. All customs clearance, documentation and friendly advice from bilingual staff will be included in your shipment with us. Our warehouses are located throughout Turkey.
Speak to us to consolidate your shipment further – 020 8569 1312 or email road@turktransport.co.uk
Air Freight
Turkey's air transportation market has significant growth potential and is keen on development as air freight and passenger transportation continues to grow. Atatürk airport in Istanbul has the largest capacity and is the most significant airport in Turkey, with more than half of the total air freight for Turkey passing through. Istanbul Atatürk International Airport is currently the seventh busiest airport in Europe, in terms of passengers. Turkey is committed to expanding it's air logistics sector and is in the process of constructing a new airport in Istanbul, a new era of transportation that will connect the city of Istanbul to the east via the new bridge. The airport is part of a larger urban development plan. A new settlement area will be built to the south of the third airport which will cover about 42,000 hectares of land, in which 9,400 hectares will be covered by the airport, and the rest will be home to 1-1.5 million people. The airport is planned to be one of the largest airports in the world, with a yearly capacity of 150 million passengers. Turk Transport are truly able to offer door to door, airport to airport or door to airport services. So whether your air freight cargo is commercial or personal, we can get it there with cost-effective airfreight rates. We have access to daily departures, import and export from world-wide airports serving international airports located in Adana, Ankara, Antakya, Antalya, Bodrum, Bursa, Dalaman, Erzurum, Edkisehir, Gaziantep, Istanbul, Izmir, Kayseri, Konya, Kutahya, Malatya, Nevsehir, Samsun, Sanliurfa, and Trabzon, as well as domestic airports in Turkey. Speak to us to consolidate your shipment further – 020 8569 1312 or email air@turktransport.co.uk
Sea Freight
The freight handling capacity in Turkey's ports has been steadily increasing over the years. Turkish ports can handle a variety of cargo, including bulk cargo, general cargo, container and liquid bulk cargo. Kocaeli port has emerged as the leading port in cargo handling. This can be attributed to their proximity to manufacturing and business centres. Izmit's port has the highest share in cargo handling and Ambarlı's port is the top container handler among Turkish ports, followed by Mersin and Izmir. Ambarlı constitutes approx 42% of the total number of containers handled in Turkey. The biggest port is Haydarpaşa. It has an extensive capacity and includes technology of, bulk freight handling facilities and ferry boats that provide service to train ferries working between Sirkeci and Haydarpaşa. The Total traffic in ports has more than doubled in the past 8 years due to increasing trade.
Ports provide an interface between sea transport and land based transport, representing a great opportunity in Turkey, given the country has more than 8,200 km of coastline. There are currently more than 50 ports in Turkey, structured in order to serve multiple types of loads. There are 60 customs directorates for sea border crossings, of which 14 directorates are temporary. Turkey's geographic location allows it to be connected to the Atlantic Ocean via the Gibraltar, the Arabian Peninsula and Indian Ocean via the Suez Canal and the Black Sea, Aegean, Mediterranean and Eurasia via the Turkish Straits. A new port, Çandarlı Port, is under construction and on completion, will be the biggest port of Turkey and 10th largest port in the world. Çandarlı port is expected to have a capacity of 12 million TEU. Turk Transport has strong and healthy relations with many shipping lines, built up over many years, handling large volumes of freight, serving numerous sea ports throughout Turkey. We offer a range of flexible and cost effective LCL and FCL solutions. We can provide door to door, port to port or door to port solutions. Speak to us to consolidate your shipment further – 020 8569 1312 or email sea@turktransport.co.uk
Did you know - The world's oldest known settlement is in Catalhoyuk in central Anatolia, Turkey, and dates back to 6,500 BC.
- St Nicolas – the original Santa Claus – was born in Patara in Turkey and has a church dedicated to him in Demre.
- The Virgin Mary spent her last days in Selcuk near the ancient city of Ephesus.
- The Turks introduced coffee to Europe when the retreating Ottoman army abandoned sacks of it at the gates of Vienna. - The famous Trojan Wars took place in western Turkey, around the site where a wooden statue of the Trojan horse has been erected today.