"We appreciate shipping your personal and household effects and vehicles overseas can be a very stressful time".
Turk Transport is able to provide personal and business customers a solution for importing or exporting personal effects. Your shipment may be a single, small item or may be the entire contents of a property – we can help.
When you inform us of your shipping requirement (ie what you want to ship), we will advise the easiest and most cost effective way to send your shipment - by road, air, courier or sea.

The most common way to ship household goods is to use a sea freight container.
We can decide to use a dedicated full container load (FCL) or less than container load (FCL) for smaller volumes.
FCL shipments require a container to be delivered to your address. Container size will vary depending on the size and quantity of goods you are shipping. Prior to delivery, you will have been advised by us the container size (20ft, 40ft or 60ft), date and time of delivery and any permit's required. Once the container is loaded the driver seals it with a unique number and then the container is delivered to the Port for transfer onto awaiting shipping vessel.
LCL shipments are usually loaded into a container at our nominated warehouse.
We will arrange for the collection of your shipment from your address, or if you prefer, you may wish to deliver your shipment direct to us. We will then deliver the LCL container to the port, ready for transfer onto awaiting vessel.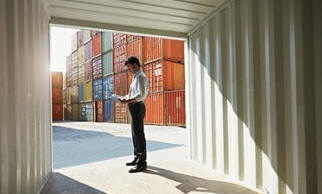 We will advise and ensure all documents necessary for your shipment are made available. Document requirements will vary from country to country.
You will also need to supply a packing list. This would be a general inventory of goods being shipped. (Some countries require a value to be shown for the items being shipped).
Commercial shippers would have to provide a commercial Invoice as well as a packing list.
Once the vessel sails then a Bill of Lading will be issued.
This is a proof of ownership document. It has all the details of the shipment and includes the consignor, sender, consignee and receiver details.
In most cases, your goods will require customs clearance – We will handle this legal requirement for you.
As we are not a removal company, we would kindly ask you pack and secure your goods so that they arrive at your destination in the condition they left. Double thickness boxes and plenty of bubble wrap are essential in ensuring goods are well packed.

Please give us a call to discuss your requirements – 020 8569 1312